Welcome to my poetry pages where only the fearless venture!
The website equivalent of an old ivy clad summerhouse
hidden within a thicket at the bottom of the garden, waiting to be discovered.

This is a new part of the website where you will find works that I hope will amuse and entertain you.
My work has no pretensions of scaling the dizzying intellectual heights aspired to by the T.S Elliots or Sylvia Plaths
of the poetry universe. My work is certainly more Milne than Masefield and far more Hegley than Hughes.

In short, I write daft, nostalgic rhyme that I hope will make you smile. I hope it will appeal to children
of all ages. Strangely, having survived half a century, my poetic braincells still seem to be little more than ten years old.
You'll see what I mean!
There are, of course illustrations here and there, I'm sure you would expect no less.
SO MAKE YOURSELF A HOT MILKY DRINK, PULL YOURSELF UP NEAR THE FIRE (NOT TOO NEAR, OBVIOUSLY!) AND READ ON!

"A crocodile has no lips" begins "A crocodile", by the way. The letter "A" got a bit out of hand on this illustrated version!

Oh and one other thing. I sometimes use weird words which might be unfamiliar to you so, if you whizz to the bottom
of this page you will find a glossary and all will be revealed!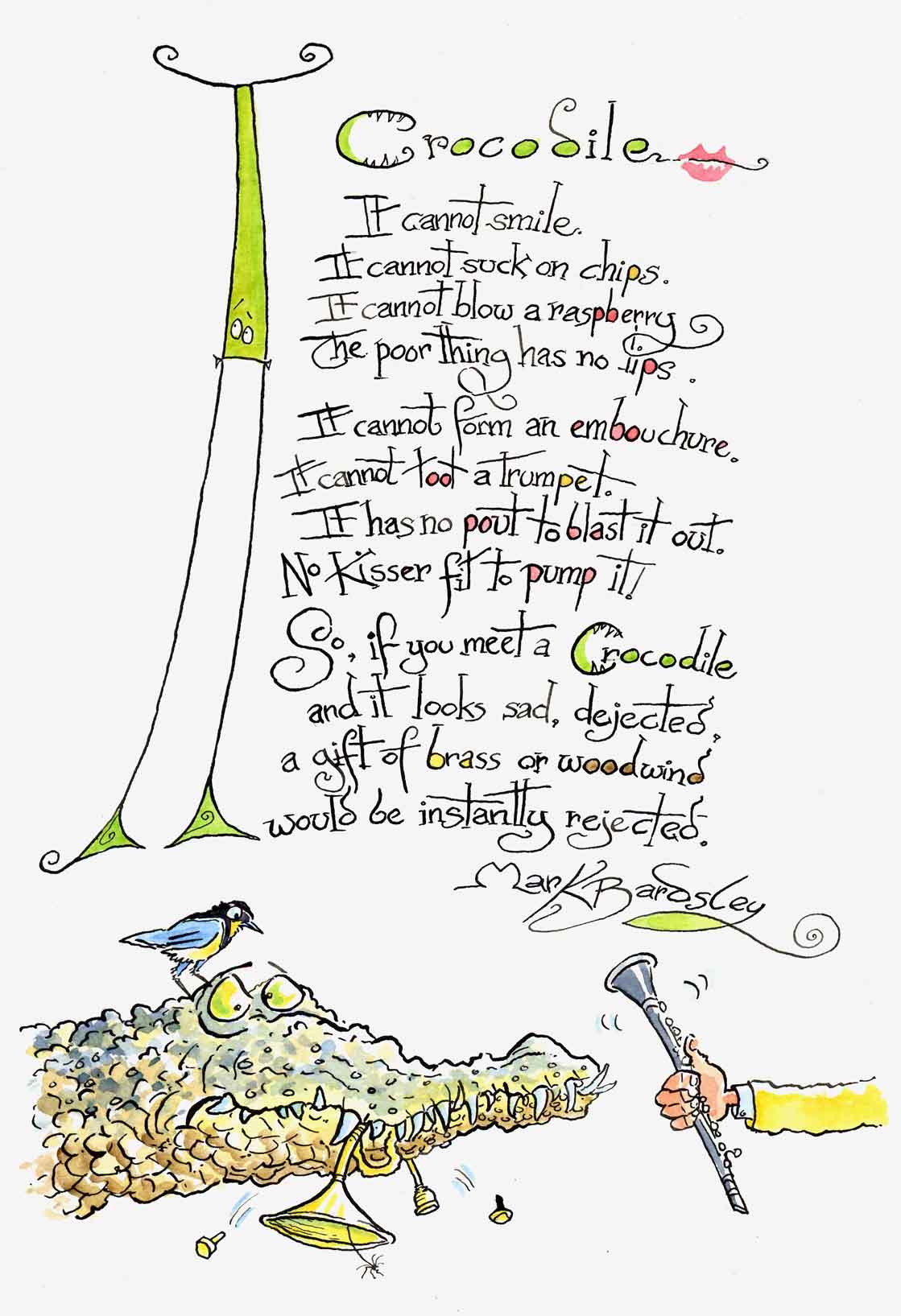 Like many kids, we kept guinea pigs and the one thing that always really struck me about them was the consistently
neat shape of their poo! It's an intriguing natural phenomenon which I'm sure Chris Packham could shed some light on!

GUINEA POO
Guinea pig, my guinea pig,
oh Guinea tell me do,
how is it such a perfect shape
is made by Guinea poo?

Most poos are soft and squishy
and random in their form
but yours are perfect every time.
Is that the Guinea norm'?

I cannot keep my poo as neat
however hard I try.
I always get in such a mess,
I really wonder why.

But, Guinea pig, oh Guinea pig,
you have the perfect poo.
A nicely formed torpedo shape!
I wish I could be you.

When a friend has a crisis, mummy may suggest a solution that you aren't altogether happy with.
Sometimes her solutions are, well, pants!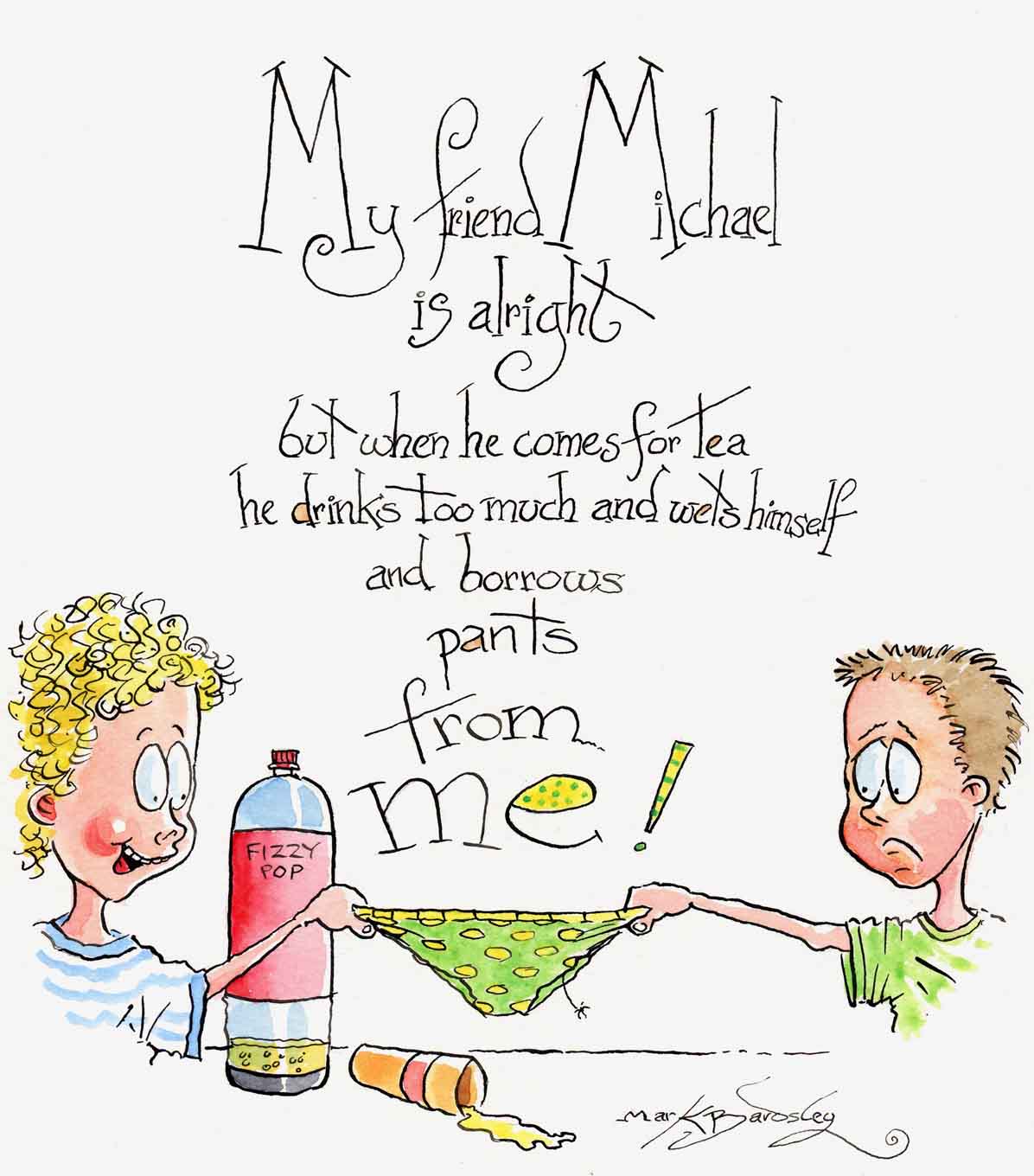 Some people are brought up BY dogs! I was brought up WITH dogs, which is not quite as bad.
As a result, dogs feature in my poems frequently. Poo seems to as well. Sorry about that!
Life can't all be sweetness and light and my poetry reflects it. The following is a true story.

BAREFOOT DISASTER!
When Nan and Grandad visited,
they slept upon a sofabed.
The lounge was where we had them placed
and come the morning, in I raced!

Not heeding where my bare feet fell,
there suddenly arose a smell.
and as it wafted up my nose
I noticed poo upon my toes!

I screamed, and cried in my distress
I'd stepped right in their doggie's mess!
Our abstract carpet, brown and green
meant dog poo could remain unseen!

Thus, in I'd trotted, bright and keen
with no clue that their dog had been.
They smacked that doggie, made him yelp,
but all their laughter didn't help!

Somtimes it's hard for a child to read doggie body language and although I'm good with it now,
things weren't always that way!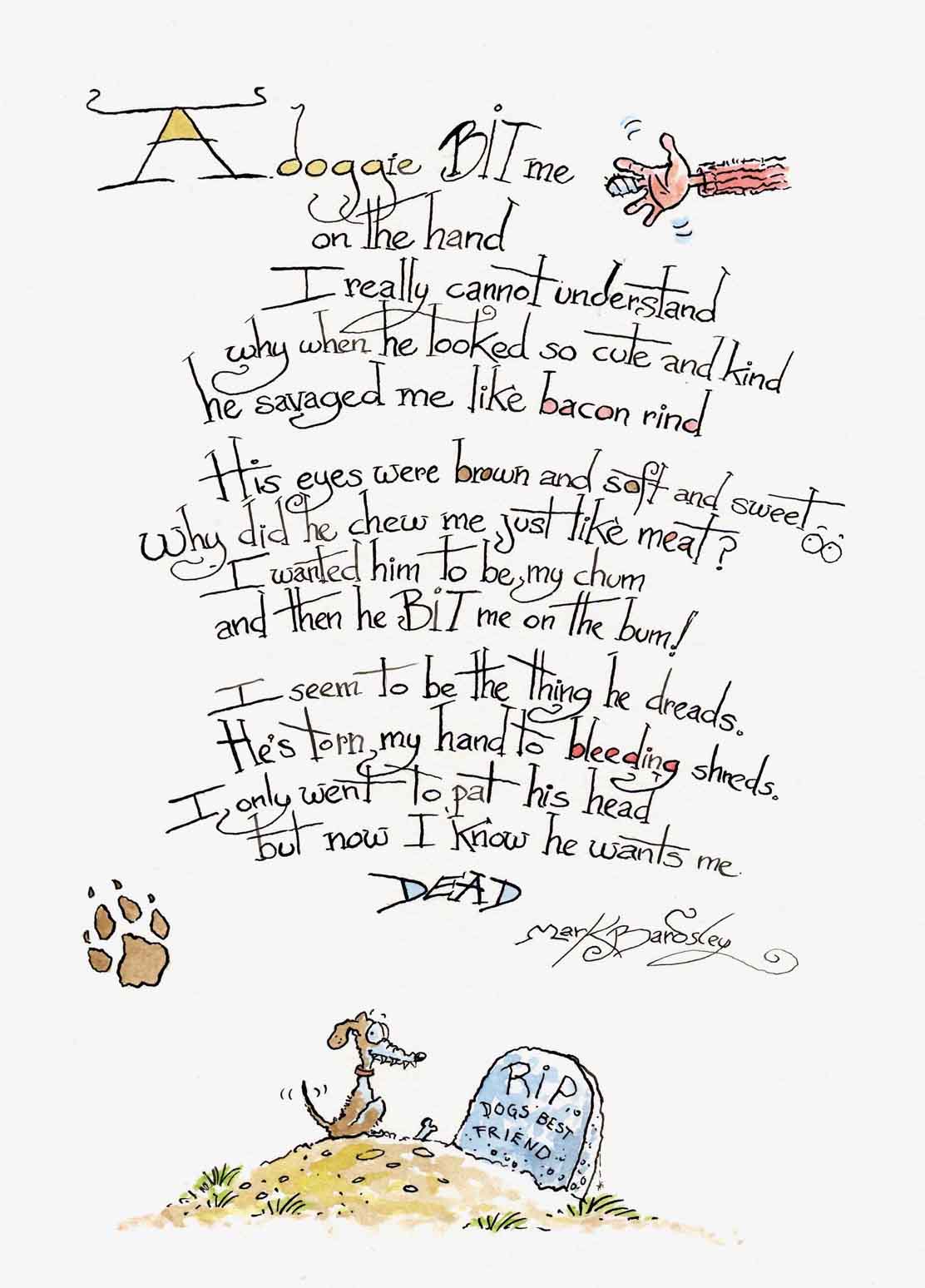 I once had the opportunity to blow a trumpet in a library! A thing I secretly had an ambition to do.
I won't tell you how I accomplished this, just let your imagination run riot.

I BLEW A TRUMPET IN A LIBRARY

I blew a trumpet in a library.
I really had to do it.
The library lady said to me,
"You had your chance,
you blew it!"

The next one involves a dog again I'm afraid (warned you didn't I?)
but this is really about the age-old problem of children who won't eat their greens.
Dogs may cause problems for the unsuspecting child but they have advantages too!



GLOSSARY

EMBOUCHURE; This is the raspberry-blowing shape made by the lips when tooting on a trumpet.
SOFABED: A sofa that folds flat like a bed but is incredibly lumpy and you don't get a wink of sleep!
ABSTRACT; An art form that is usually just a big mess and you can't tell what it is. A bit like poo
(with the exception of Guinea poo of course.)